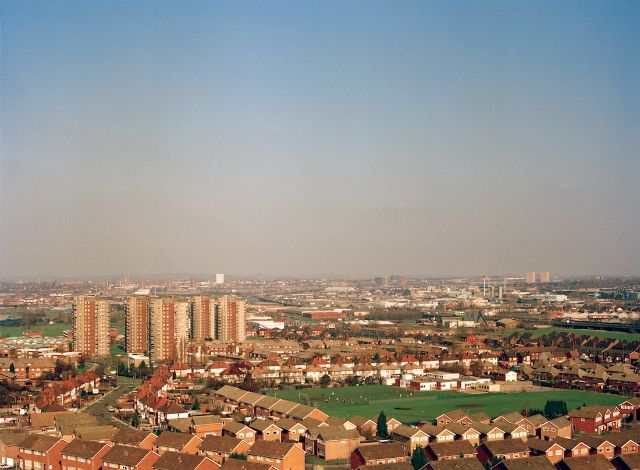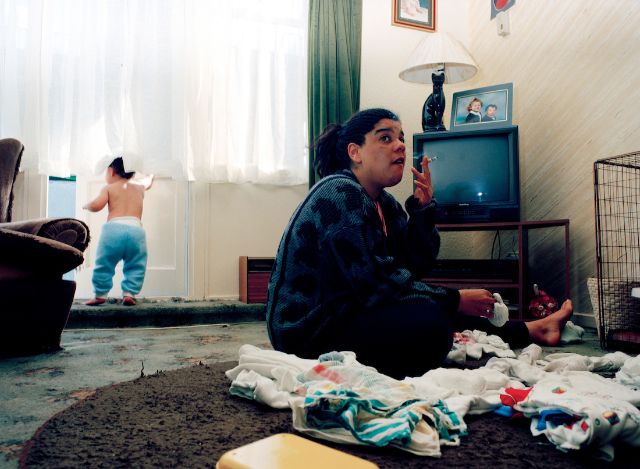 Robert Clayton
Taken on a housing estate in the West Midlands, typical in architectural style of many built in Britain during the 1960's, Robert Clayton's Lion Farm Estate series reflects a watershed in post war Britain, portraying the move from consensus to post modernity. The estate has not stood the test of time: in 1990/1991 it had a few remaining tenants and had been progressively run down awaiting demolition. One block remains today. This insightful glimpse into the past also reveals its relevance today as social housing in the UK erodes still further as the welfare state and the ideology that created such places has been worn down by greed and gentrification. Estate masterfully exhibits the real lives of those living there in the 1990's alongside an appreciation of the architecture that surrounds them. Taken from his book of the same name this work is perfectly placed to serve the public as a tacit reminder of the need for social housing.
His primary aim was to convey to an audience the visual experience of what it might be like to live on such an estate. Clayton was concerned with producing an accurate documentation of the conditions and environment in which people lived.
Despite the disadvantages in living standards that the residents of the estate endured, it was common for certain 'categories' of people to be grouped together. Many of the residents of Lion Farm Estate were relatively marginalised in 1990's Britain – many of them unemployed, often with families to support. There were many young single parent families, and also many pensioners relying on the state pension only. To compound this, active social engineering took place on the estate with all those in employment being moved into specific blocks (to be saved), whilst the unemployed were allocated to other less well maintained blocks, primed for demolition.
Over two decades later, Clayton's insightful and evocative images still resound with contemporary issues surrounding social housing, environmental concerns and disenfranchisement of the lower classes.
The work was notably exhibited in 2015 at The Library of Birmingham, in collaboration with Pete James and curated by Laura Noble.
Quotes about Estate:
The strength of Clayton's vision and his work's usefulness (and poignancy) are founded in its balance. What is special about Estate is Clayton's humane rendering of it as a time capsule that emphasises ordinariness. This was how it was for millions of people in the early '90s. Jonathan Meades – artist, filmmaker & writer
The photographs themselves are so beautifully framed and composed, creating a rather epic feel to these everyday moments. Anyone with an interest in postwar British social history, modernist architecture or street photography should really enjoy 'Estate'. John Grindrod – Concreteopia author
Estate book available:
Limited Edition of 750 copies Works are taken from his new limited edition photobook Estate – published by Stay Free Publishing priced £35 + p&p – containing sixty seven colour plates and essays by Jonathan Meades and Laura Noble. It is available for sale from several outlets in the UK. To order online please go to www.stayfreepublishing.co.uk